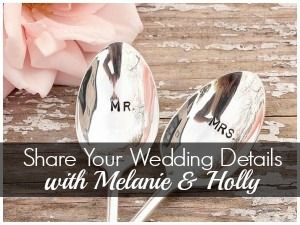 In honor of my recent 3 year anniversary I decided to participate in my first ever link up with
Holly
and
Mel
! My wedding was a true dream come true, everything I could have wanted it to be and more. Except, of course, for 2 very important people who weren't there. With in the year leading up to our wedding Kyle and I both lost our mothers to breast cancer. So there were many aspects of the day dedicated to them. But ultimately we wanted our wedding to be a day of celebration of our union. And boy was it ever!
The theme I envisioned for our wedding was a classy "night club" feel. Unfortunately Pinterest was not around yet, but I had no problem finding inspiration from wedding blogs and google.
We got married at the Gillespie conference center and hotel in South Bend, IN. I really wanted to get married at a hotel because we had so much family coming in from all over the country. Plus, I didn't want anyone to worry about driving home after a night of fun. My wedding colors were a pretty pale aqua blue with silver and crystal accents. My main goal was to have a modern feel. I am not a big fan of flowers or anything cheesy looking. Once I saw the spaces come to life I was brought to tears. Everything I had dreamt of was right before my eyes.
Ceremony space, before the candles were lit down the aisle
Closer look at the crystal branches up at the altar
Candles lit down the aisle and silver trees with crystals hanging down
A pink rose sat on the first seat on either side of the aisle to represent where our mothers would have sat.
Reception room. The a&k logo was the same as the logo on our wedding invitation
A closer look at one of the tables. Those center pieces were all made by hand by me and my friends and family. About 120 man hours at least. But so worth it!
Another look at the reception site. In the top right corner you can see my favorite- all white dance floor with white leather couches.
If you know me, you know that I love to get glammed up! I wanted it all -the tan, the lashes, the blonder the better. I treated all my bridesmaids to get their hair and make up done and we stayed together in a suite the night before so we could all be in one location together the day of. The hair and make up teams came to our suite as well and we had it catered with lots of yummy food and champagne too. It was such a fun day getting pampered with all my girls.
LOVED my makeup!
Me and my girls all glammed up!
It was very important to me that Kyle and I did not see each other before hand. I am so glad I stuck to my guns even though my photographer did her best to convince me other wise. Yes I understand it takes time, but I will never forget the moment I walked down the aisle to see my groom for the first time that day and the look he had on his face. Priceless!
Dress was Alfred Angelo
So in love!

Of course we had to get the token group shot of everyone jumping. We had the BEST bridal party ever!
While we took our pictures our guests went to a terrace outside just off the ceremony room and enjoyed hor d'oeuvres, an open bar and an awesome local band, Alligator Blackbird. They are a 3 person band that play music like Dave Matthews, Jason Mraz, etc and fun covers by T.Swift and Britney.
We did our first dance as soon as we entered the reception space. I had heard doing it then was the best time since its the only time all eyes will really be on you. In retrospect it was kind of awkward with everyone watching us and I am sure people were just ready to eat. The whole time we just talked about how awkward it was and that we had hoped it would end soon. I would say that would be one of my only do-overs!
First dance
We had a yummy meal of chicken and steak -I didn't want our guests to have to choose or deal with making sure people got the right plate so we offered them both. After dinner we did the cake cutting and then right in to the dollar dance. Instead of doing the traditional father/daughter mother/son dance we decided to do a dollar dance with all of our guests and donate all of the proceeds to breast cancer research. It was the most emotional part of our wedding, besides the walk down the aisle. The passing of our mothers was not just hard on us, but on every single person that was in that room. A definite favorite part of our wedding!
Cake was delicious-the cake itself looked a little homemade. Good thing it was a dimly lit room!
Alligator Blackbird playing while we ate dinner.
Once the dollar dance was over it was time to PART-AY! I changed in to a party dress, the DJ came on and the rest of the night was spent having a blast dancing, sweating off all of my makeup, and drinking one too many grape vodkas. When I uploaded the pictures to the blog for this link up I couldn't help but smile as I remembered how much fun it really was. Everyone was on the dance floor the entire night and our wedding coordinator told us that they had never ran out of Jack Daniels in one night before. Our college friends are crazy, so I was not surprised at all.
I am pretty sure we did the Cupid Shuffle 3 times. And yes, my friend Bill is really that tall.
Party on the dance floor was non stop until quitting time!
Hot mess express coming at you. I can't complain though- I had the time of life!
We had a photo booth which was fun for us and the guests, but to be honest we never look at the pictures. So if we needed to cut something- that could have been it. They were just starting to be the "thing" to do at weddings so you know I was on top of it!
Checking out the photo booth pics.
You may even recognize these faces too.
Brandi
and Sean and Tucker all flew up from Dallas. He was only 10 months at the time and did such a good job! Sean has been a family friend of mine since he was 9 years old. He lived down the street from my dad and step mom and he and my brother were best friends. Sean went on all of our family vacations with us growing up and was truly a second brother to me. It meant so much to me that they made the trip up with their baby!
Sweet sleeping Tucker on the dance floor
One of the things I really wanted was a nanny for the kids. For the most part, kids under 8 and weddings are not a good combo. For anyone. I wanted to provide parents with a date night and selfishly didn't want any kids running amok distracting me during our day. We used one of the smaller conference rooms and paid 2 professional nannies to watch the kids during the ceremony and dinner. After dinner the kids were free to come and go as they pleased. We had a wii, plenty of games, yummy food and entertainment for the little ones. I wish every wedding I went to provided that because paying for a baby sitter can be expensive and it is hard to enjoy ourselves while chasing our rambunctious 1 year old around.
Around 10:30 we had a hot dog cart come in with all of the fixings to help satisfy our guests' late night cravings. It was so yummy! And everyone LOVED it!
Once again, I am looking like a hot mess by the end of the night.

These couches came in handy at the end of the night for sleepy little girls!
When people say weddings are the best day of their lives- I see why they mean it! When do you have all of your family and closest friends all together in one room? I have loved this link up and remembering such a special day!
Final Dos/Dont's:
Do:
-Give your DJ a specific "do not play" list. And when he still tries to play "Grease Lightening" immediately march up to him and demand he change it. Not cool dude, not cool. Now play "Get Low" asap.
-Ask for help and put people to work. They are willing and there is no way you can do it all.
-Get married for the RIGHT reason to the RIGHT person.
-Make decisions on what you like. Not anyone else. It is your day!
-Get a videoprapher. Best money ever spent.
Don't:
-Get too wrapped up in the detials. We didn't have "favors" or go out of our way to do the little things. No one pays any attention to them, they are csotly and time consuming. Instead, spend your time and energy on one or two bigger things that people would remember. Like lighting. Lighting goes a long way!
-Leave too much last minute. Once your family gets in town make sure you have enough time to spend with them and enjoy your weekend.